We've blogged a couple of times about the Open Source Seed Initiative. The first time was when Jeremy interviewed Jack Kloppenburg, whose idea it was, back in 2013. The second yielded this little gem:
"It's almost like a haiku," says Irwin Goldman a professor of horticulture at UW-Madison and plant breeder, who has released two of his carrot varieties under the OSSI. "It basically says these seeds are free to use in any way you want. They can't be legally protected. Enjoy them."
Well, it turns out there's a German version as well, as well as a project in east Africa. That's according to a new policy brief from CIRAD.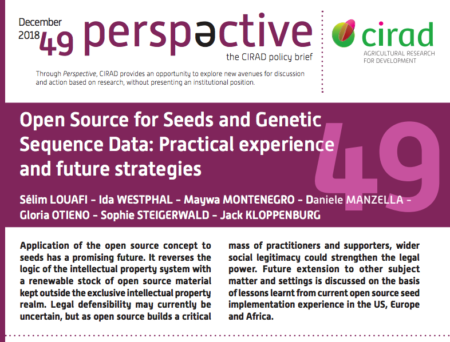 It's not quite a haiku, but here's how the approach is described by Selim Louafi and his co-authors:
This approach is distinct from the public domain, whereby anyone has free and open access to the seeds, with the inevitable risk of free appropriation. Conversely, the open source approach is based on viral effects (i.e. the same conditions apply for any subsequent use) and non-proprietary assets: it reverses the intellectual property rights rationale by introducing negotiated terms of access and use with the aim of keeping seeds in a protected commons.
Long may it prosper.