Sad news from our friend Ruaraidh Sackville Hamilton, IRRI's genebank manager.
With sadness I [share] this news about the death of Mitsuaki Tanabe, famed for his lifetime of work promoting the conservation of rice diversity through sculpting and drawing huge grains of wild rice. Many of you frequently, perhaps daily, see the works that he donated to IRRI, FAO, the Crop Trust, the Svalbard Global Seed Vault and others. He is surely unique in the way he used his artistic talents to further the cause of rice conservation, and the dedication he showed to both.

My own strongest memory of him is his enthusiastic participation in a scientific meeting organized by the Green Energy Mission in Nepal in 2002 on the conservation of wild rice. He donated a 10 metre long drawing of a wild rice grain, which all participants signed. An exceptional person.
Mr Tanabe was 76. He established a museum for his work last year in Yokohama. This is him seated by the sculpture he donated to the Crop Trust in 2006. It's on the second floor of the FAO building in Rome, facing the Viale Aventino.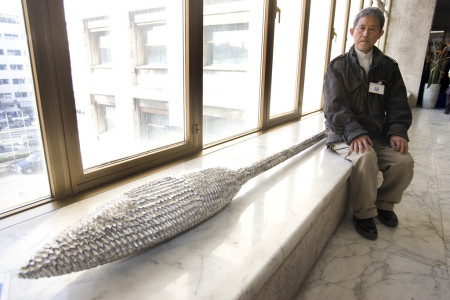 { 1 comment }