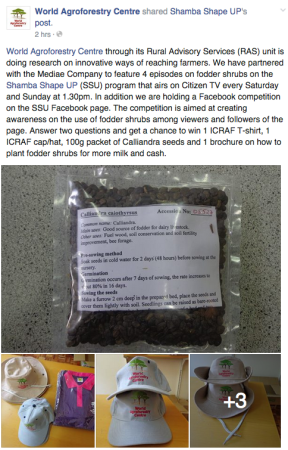 I liked this idea from the World Agroforestry Centre's Facebook page:
World Agroforestry Centre through its Rural Advisory Services (RAS) unit is doing research on innovative ways of reaching farmers. We have partnered with the Mediae Company to feature 4 episodes on fodder shrubs on the Shamba Shape UP (SSU) program that airs on Citizen TV every Saturday and Sunday at 1.30pm. In addition we are holding a Facebook competition on the SSU Facebook page. The competition is aimed at creating awareness on the use of fodder shrubs among viewers and followers of the page. Answer two questions and get a chance to win 1 ICRAF T-shirt, 1 ICRAF cap/hat, 100g packet of Calliandra seeds and 1 brochure on how to plant fodder shrubs for more milk and cash.
That's one way of getting germplasm out the genebank door! But I think it shouldn't be just Calliandra. Let's get those farmers playing around with lots of different species. And what, incidentally, is second prize?
{ 0 comments }