That early stirring of globalization that was the Columbian Exchange changed Italian food and cooking forever. That's well known. What would pizza be like without pomodori and peperoncini, after all? There's also polenta — and pasta e fagioli. And no doubt also traditional potato-based dishes, though I can't think of one just now. But the third member of the Mesoamerican Trinity is often forgotten when the usual suspects of the exchange are trotted out, as I've just done.
Which is a pity, because the pumpkin features in some pretty nice dishes.1 So it was nice to see it celebrated last week in Tolentino. We found this sculpture in the piazza which houses the regular fruit and veg market.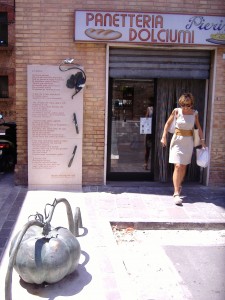 On the wall is the text of an ode to the vegetable (or fruit, but I'm not going there) by the local poet Giovanni Sebastiani (1874-1959). You can read "La Zucca" here. But don't ask me to translate. The local Marche dialect is all but impenetrable to me.
Ok, I cheated a bit. The Mesoamerican trinity is maize, beans and squash, rather than pumpkin, but you know what I mean. [↩]