Great to see young guns Sean Hoban and Colin Khoury being interviewed by Emily Henderson on why genetic diversity is important and therefore why — and how — we should save it.
Their latest paper came out last month:
Hoban et al. (2021) Global commitments to conserving genetic diversity are now necessary and feasible. Bioscience doi: 10.1093/biosci/biab054. https://doi.org/10.1093/biosci/biab054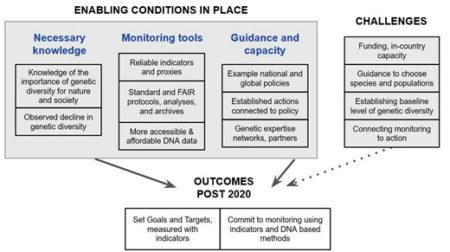 The bottom line?
There must be a CBD post-2020 framework with a clear, measurable, and numerical genetic diversity goal, of the same standing as species and ecosystems, as well as associated action targets…; inclusion and implementation of practical genetic diversity indicators in the CBD and other global biodiversity commitments (e.g., IPBES, SDG); and increased establishment and scaling up of genetic monitoring programs, with those actors having sufficient resources assisting others.
Seconded.