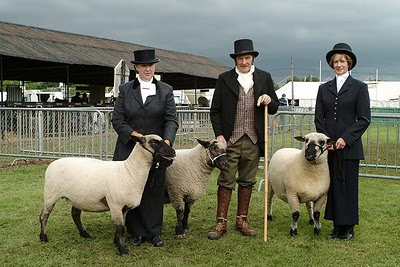 You may have seen stories in the past week or so of a flock of Shropshire sheep that authorities in Canada have threatened with destruction. The sheep belong to Montana Jones, who raises them at her Wholearth Farm, near Hastings in Peterborough. Five years ago she sold a ewe to a farmer in Alberta, and that sheep has been diagnosed with scrapie. As a result, the Canadian Food Inspection Agency wants to destroy other animals from the same flock who are infected or suspected of being infected.
One problem for Montana Jones is that the test "is only about 85% accurate". So the sheep that tested positive may not have scrapie, although I have no idea what that 85% figure actually means. False positives? False negatives? What?
It is a long time since I last had to get my ahead around scrapie, the risks to humans (it is not "mad sheep disease"), the different breed susceptibilities, and the different approaches to eradication. All of those are important issues, I am sure. What concerns me about Montana Jones' case is whether the appeal to the rarity of Shropshire sheep justifies not taking the precaution of slaughtering some of the flock.
Of course it is heart-breaking to lose animals you have lavished care on, especially when you feel that the action is not justified. But while Shropshires may be very rare in Canada, with all kinds of historical attachments, they are in pretty reasonable shape elsewhere, for example at their home in the UK. (Here is a wool nut's view of the UK Rare Breeds Survival Trust's rankings.) I wonder, too, how much genetic diversity the Canadian flocks represent. Wouldn't it be cool if someone were able to genemap all the Shropshires around the world, in order to be able to show the CFIA just what we would be losing if they go ahead with their plan to cull half of Montana Jones' flock?
By all means go ahead and sign the petition to save those Shropshires, but consider, too, that evidence of their genetic importance might just carry more weight.