Speaking of evil plant breeders:
It is generally thought that continuous selection among crosses of genetically related cultivars has led to a narrowing of the genetic base of the crops on which modern agriculture is based, contributing to the genetic erosion of the crop gene pools on which breeding is based.
But this may be another faulty meta-narrative. At least that's what a group of researchers from the Dutch genebank say, as a result of a meta-analysis of 44 genetic diversity studies of the varieties of 8 crops released in successive decades.1 This is the result: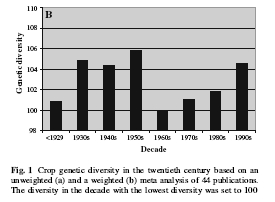 The meta analysis demonstrated that overall in the long run no substantial reduction in the regional diversity of crop varieties released by plant breeders has taken place.
Of course, that says nothing about the relative frequency at which these varieties have been grown by farmers, also an important aspect of overall diversity, along with how different the varieties are. Anyway, that decrease in the 60's was only about 6%, and that has been reversed since then. How? Because of genebanks, say the authors.
In the 1960s and 1970s the introduction of the new Green Revolution-type cultivars for the major staple crops led to concerns on the disappearance of the world's varietal wealth of crop plants. The widely shared concerns ultimately resulted in the establishment of a worldwide network of international genebanks hosted by the CGIAR research centres. The seed samples stored in these genebanks facilitated access of the world's crop diversity to plant breeders world wide. It seems likely that the easy access to crop diversity provided by the genebanks, improved communication among breeders and easier exchange of seeds were factors contributing to the reversal of the initial trend in diversity reduction as observed in this meta analysis. Also the increased use of crop wild relatives for breeding and in recent years the use of synthetic wheats will have contributed to the observed diversity increase.
Well, it will be interesting to see, in due course, whether the restrictions on access which followed the Convention on Biological Diversity, had an effect, and whether the International Treaty on PGRFA eventually set the world to rights. As it was designed to do.
Wouw, M., Hintum, T., Kik, C., Treuren, R., & Visser, B. (2010). Genetic diversity trends in twentieth century crop cultivars: a meta analysis

Theoretical and Applied Genetics

DOI: 10.1007/s00122-009-1252-6 [↩]