More from our friend Lex Thomson on the Pacific Hibiscus saga:
Excited to report on the finding of a presumed new Hibiscus species in Solomon Islands. This Hibiscus has several distinctive features including round, saucer-shaped leaves with an entire or shallowly crenulated margin and very small, bright red flowers with a windmill arrangement of petals. The serrated dark red eye may indicate a relationship with the Fijian Hibiscus storckii but other features suggest affinities with Indian Ocean islands Hibiscus such as Hibiscus liliiflorus. The new species appears of ancient origins and may represent a 'missing link' between Pacific Islands and Mascarene Islands Hibiscus. Am looking forward to working with Solomon Islands botanist Myknee Sirikolo to describe this new species, which is thus far known only from a 1970's collection from Santa Cruz Islands and the photographed plant in Mrs Bronwyn Lilo's garden (Gosi Anikisina) near Honiara.
This from the Facebook page of Savurua Botanical Gardens in Fiji.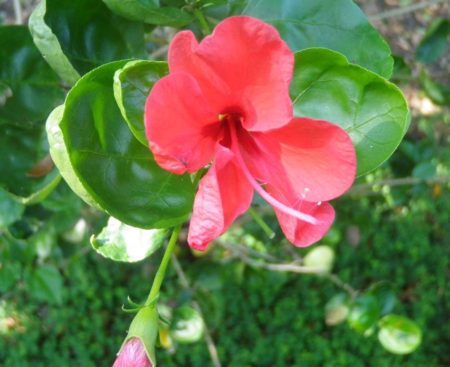 Lots more work to be done, clearly.