USDA … Plant Genetic Resources Conservation Unit located in Griffin, Ga., is home to over 100,000 accessions of preserved plant germplasm including the largest collection of sorghum germplasm in the world.
Well that's the kind of statement that I just have to fact-check. It's a little difficult to be entirely sure, Genebank Database Hell being what it is, but I think perhaps the ICRISAT genebank edges it. At least if you go by what's in Genesys. IND002 is ICRISAT, USA016 the USDA Griffin genebank.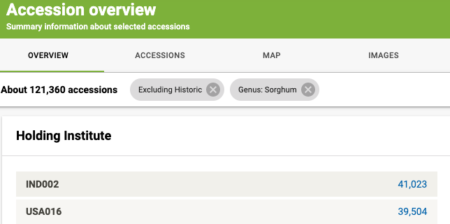 But, of course, it's not just about the numbers. Only 20% or so of the accessions are geo-referenced, but mapping what data there is does suggest that there are interesting complementarities between the two collections (ICRISAT in red, USDA in blue — click on the map to see it better).

Anyway, do read the rest of the article in Seed World, there's interesting stuff in there, and what's a couple thousand sorghum accessions between friends anyway.