I have a lot of respect for the New Scientist. I really do. I kind of grew up with it. But I don't think it handled the Great Seed Bank Confusion very well. Let me remind you. Last week a blog post went up at Short Sharp Science confusing the Millennium Seed Bank at Kew with the Svalbard Global Seed Vault, which is demonstrably not at Kew. Here's a screen grab of that original post (click to enlarge):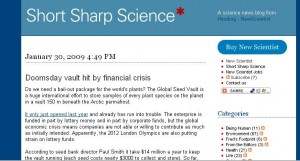 That was bad enough, as both places have been in the news a lot lately, and it elicited the predictable flood of comments1 — some unpardonably rude, it must be admitted2 — setting the blogger right. But it was nearly a week before the post was corrected, thusly: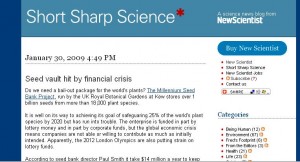 And, rather than being up-front, the apology for the mistake, and the notice that a correction has been made, is buried in the 18th comment.
Journalists often bitch and moan about bloggers not being sufficiently professional about checking sources etc etc. I think New Scientist was unprofessional in making the original mistake — but hey, that happens — but also, and unforgivably, in not owning up to it quickly and visibly enough. Anyway, at least now everyone knows the difference between Kew and Svalbard.
Even one by me! [↩]
Not mine! [↩]