Speaking of social media, Royal Botanic Gardens Edinburgh just published an interesting post entitled Botanic gardens conserve crop diversity too.1 The crux of the matter is that RBGE tweeted about having collected some wild relatives of cabbages and other veg. A picture of one cabbage caught Luigi's eye, as pictures of wild relatives often will, and he in turn discovered that the population from which it came is not represented in the UK's leading collection at the Genetic Resources Unit in Warwick. Horrors! As he said at the time:
[T]he material mentioned in the Edinburgh tweet, which comes from Fife in Scotland, is likely to add significant diversity to the "national" collection at Warwick. Scope for some closer collaboration between these two institutes? Well, maybe it's already there and I haven't caught it. Do let me know if I'm being unfair.
@RBGE_Science shot back a tweet.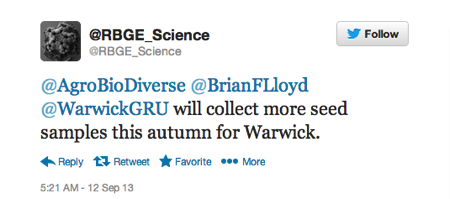 Fast forward less than a week, and RBGE now has this to say:
Seed samples from wild collections … will be passed to the Genetic Resources Unit at Warwick to enhance their CWR collection. An example of the value of this collaboration is provided by the fact that Warwick currently has no Scottish origin wild cabbage. … [T]his in turn will provide further ex-situ conservation for what is quite a rare plant in Scotland.
Was Luigi being unfair? Or should he take full credit for furthering cross-border collaboration in the important matter of cabbage wild relatives?
Great title. [↩]