Michael's post on the kouprey made me realize how ignorant I am on the subject of wild bovids. That, and news of the launch of the new GBIF portal, prompted some online fun and games last night.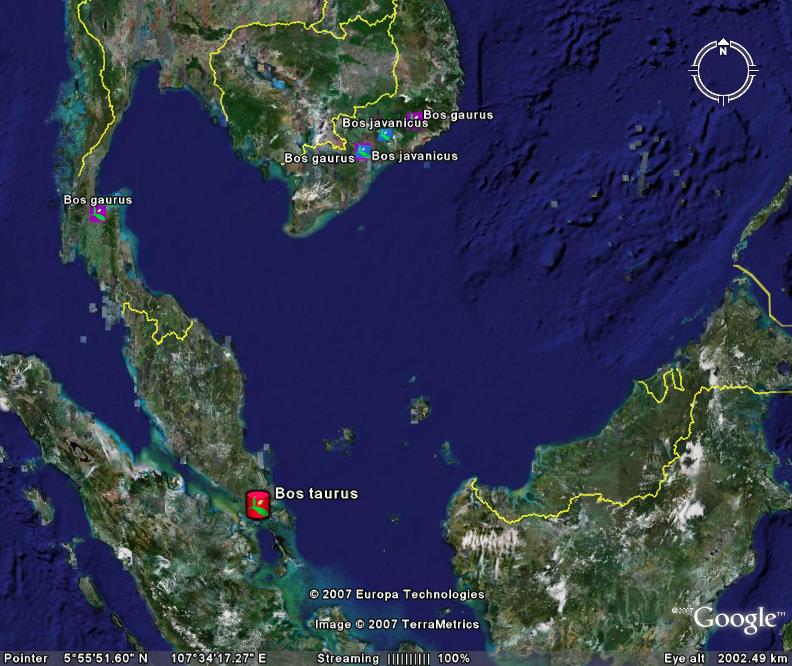 I'll just give you the edited highlights here. But I guarantee that playing with the GBIF data portal will keep you busy — and entertained — for hours.
I searched for all Bos spp specimens that GBIF has occurrence data for, then downloaded the resulting kml file and opened it in Google Earth. The map above is just a view of the records for SE Asia. Not that many, and none for the kouprey. Bos javanicus is the banteng. The records in southern Vietnam refer to specimens (stuffed, presumably, or maybe just skins, I'm not sure) from the Field Museum in Chicago.
I got quite excited when I saw the name of the collector. One T. Roosevelt. But it was not to be. This T. Roosevelt collected (shot?) the banteng specimen now in the Field Museum in 1929, which is ten years after the first President Roosevelt died.
I also did similar things for a couple of crop wild relatives, but I'll keep that for another time. Remember, one of the data providers to GBIF is SINGER, to the tune of over half a million records of germplasm accessions of crops and wild crop relatives.
Later that day: So GBIF has a thing where you can send feedback on individual records, so I did that for T. Roosevelt's banteng and within a few hours I had a email back from Larry Heaney at the Field Museum. It turns out that we're dealing here with Teddy Jr, the president's son, who spent a lot of time on expeditions in Asia. Larry says that there are also some specimens around collected by Teddy Jr's brother, Kermit. Thanks, Larry. I don't know quite why, but this whole story made my day.