A new version of the Musa Germplasm Information System (MGIS) is out. There's more data, tools for better curation, a way to search for accessions cited in the literature, and re-organized menus. Do check it out. MGIS data eventually makes its way to Genesys.
And since I'm here, it's worth noting that the banana is uniquely well-endowed with information resources. In addition to MGIS, there's a whole slew of other databases and assorted information products, thanks to the wonder that is ProMusa.
ProMusa is a network of people promoting scientific discussions on bananas.

In alliance with the International Society for Horticultural Science (ISHS), the network organizes scientific symposia (reported in proceedings) to help its members stay up-to-date on the latest research developments and encourage collaborations within and between disciplines.

When not meeting face-to-face, ProMusa members stay in touch using the network's mailing list.

This website is the network's online platform, which offers news, knowledge and information on bananas.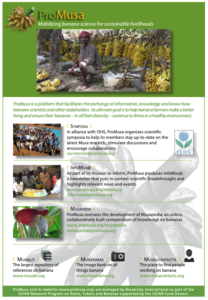 The centrepiece is Musapedia, "an online, collaboratively built compendium of knowledge on bananas." But there are also databases of scientific literature, images and contacts. And an excellent news area — InfoMus@.
You can follow — and interact with — ProMusa on Facebook and Twitter. I can't think of a crop that has anything similarly comprehensive. It really should be your first port of call for anything to do with bananas.
Gabe Sachter-Smith laid out in a spiral a sample of the more than 100 types of bananas documented during the collecting mission to West New Britain, PNG. They include the ever mysterious Fe'i banana, photographed next to its possible ancestor, Musa maclayi. pic.twitter.com/HahIXm1P4K

— ProMusa (@promusa_banana) October 11, 2019
BTW, the title of this post refers to a previous foray into banana information resources.