You'll remember that the good people at Access to Seeds Index rate seed companies on how and to what extent they make their products available to smallholder farmer in developing countries. Today they launched the results for 32 companies working in Western and Central Africa. Here are the key findings (I'm quoting):
Seed companies are active in almost all index countries across Sub-Saharan Africa and South and South-east Asia.
Many companies are providing more diverse portfolios for vegetables and field crops but need to offer more pulses to help tackle malnutrition.
Leading seed companies are offering extension services in more countries.
Companies are still only concentrating their investments in infrastructure in a few countries.
But you want to know who did well in the rankings, right? Ok, here's the Top 3.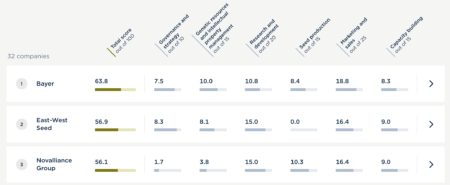 Well done, Bayer, East-West and Novalliance.